Hell and Heaven in Cambodia...
Hell and Heaven in Cambodia...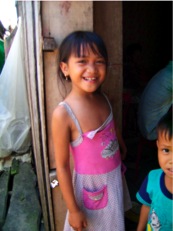 Cambodia is truely a country that should give you mixed emotions. From the beauty of history long past, and the horror of history all to close to date... From the shineing and truely genuine smiles that meets you along the way, to the more desperate and handicapped beggars along the same way, wishing for a dollar, or at least a few riel from the "rich" tourists.."
So, how do you as a tourist deal with this situation...? Its not easy, and totally impossible to help everybody, so you go and help some, and hope this will easy your own mind enougth to not notice all the rest to much, so you still can enjoy all the beauty and goodness in this truely wonderful country.
Still I have not gotten to see Ankor Wat, the amazing temple site outside Siem Reap. I will go tomorrow...
I got to see the Horroble S21, Security21, a former school transformed for torturing all not suspected to agree 100% with the Khmer Roudge...
And then to the killing fields where they kill and dump the people they saw now use in let existing.
Truely one of the darkes chapter in mankind history.
Also I see the beautiful smiles, and laughts of people, just happy for some attention, small girls smiling - overshining the sun, and the genuine happyness of meeting us.
And the beautiful beaches of Sihanoukville, and the nationalpark near by, where you feel it all has been contructed to please everyone, even you may find yourself all alone for a mile or two...
The most impressive is the genuine smiles everywhere, if you go a little outside the worst beggars and sellers places... they all feels interested in where you are from, and what you think, and maybe a little chance to speak some englich, and pick up some new words, or friends along the way... I truely would like to return to Cambodia, and hopefully with a little chance to help some of the wonderful people along the way... there are certainly need for it here... I tell more about that in next letter from Cambodia, then I get back from Siem Reap sometime....
If you concider going to Cambodia, there is nothing to concider anymore, just go, and bring your heart with you...
Tell you more next time :)