Some small stories from North-Korea
Some small stories from North-Korea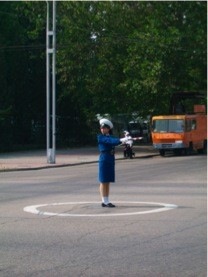 Just thought I'd write some more about my trip to North-Korea...
North Korea is a bit strange seen from a western eye... some things are really good over there, and some others tings are not so "normal"... and often there is a really strange mix of the two...
A little example is the "traffic ladies" as we used to call them...
Because of the electricity shortage they had no trafficlights in the cities, not even in
Pyongyang
, - and to control the traffic they had "traffic ladies" - girls/young women in a tight and really nice dark blue uniform, all looking the same, - with the same curly black hair in a ponytail under the hat, - and they were controling the traffic with firm, fast and efficcient movements... really an impressive sight... all in the group were really impressed and appreiciating the sight of these traffic-ladies ... espesially the men, maybe... ;-)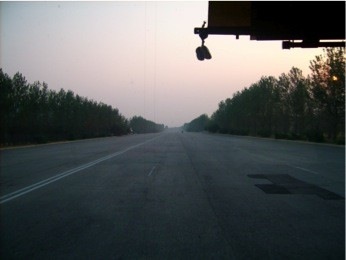 Also, - the main roads in North-Korea was impressive... 2, 3, 4 and even 5 lines i both directions.... and almost NO traffic... that really made a strange feeling... and the drivers are always honking their horn then they are driving, - and often nessesary, - I almost think its because people are crossing the street in any way thay like... because they are mostly used to the roads to be empty...?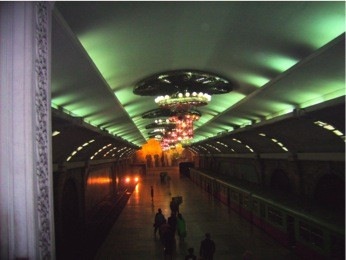 Also we got to see and try the subway in Pyongyang, - really impressive... 100-120 meters under the ground, and the stations were grorious, with BIG chandeliers hanging along the roof, and hundreds of meters of mosaic along the walls... I was actually "lost" down there... as I was standing and photograthing the greatness, and didnt notice everyone else had left, or where they left.... so I was standing there... and didnt know where to go, or what to do... (english wasn't very usefull, and I didnt know what our destination was eigther... so while I was standing there looking kind of disorientated... out of nowhere a nice lady in her late 20'ies shows up out of almost nowhere... and poking my shoulder, and showing/following my all the way (5-700 meters) out of the subway station to the correct exit where the rest of:-) the group was getting ready to go into the bus again...... I idnt see her anytime else before or after... I felt really safe after this ;-)
I want to write more, but its end of my internet time, some more will follow... I'm now in
Xi'an
, have been in
Beijing
, and am going to Wohan tomorrow, so next time I write some about china
see also www.meihack.org for future plans, and photoes if I manage to upload some the next 30 minutes...
take care every one of you :-)
ps I have almost no postadresses with me this time (forgot the list), so any thet would like a postcard, - send me your adress on a mail to
meihack@gmail.com
, please..